TEMPERATURE
Another colder than normal month characterised April.  Geelong was around 0.6 degrees cooler than the current 30-year average and 0.7 cooler than the complete record from 1902.  The main factors contributing to this result were that days were much colder than average and nights were fractionally higher.
Maximum was 29.6 degrees on the 1st and the lowest minimum was 4.3 C on the 13th and 30th.  The 19th was the coldest day (15.0 C) and the night of the 14-15th had the warmest minimum (14.5 C).   This cooler result for March and April was not predicted by the BoM for Geelong.
RAINFALL
Below average rainfall was received across most of the Geelong region.  Some Western District towns barely scored half the normal.  Some Geelong suburbs (eg, Corio) recorded the average figure but the urban area average (34mm) and the Breakwater AWS (28.4 mm) were very disappointing.  In the Otways Mt Sabine, at the head of Geelong's West Barwon catchment received a whopping 233 mm – this figure is to be confirmed.
Water catchments remain on 59% of capacity.
Please click on the regional isohyet map image to increase size.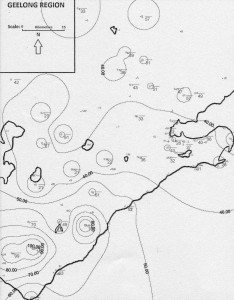 RAINFALL DATA
GEELONG REGION
Location
Total for
Month
(mm)
Monthly
Average
(mm)
Aireys Inlet
52.2
50.5
Anakie
51.0
41.0
Anglesea
na
56.0
Apollo Bay
63.0
85.2
Bacchus Marsh
na
42.4
Ballan
57.2
55.5
Ballarat
32.8
53.8
Bannockburn
32.6
42.0
Barwon Heads GC
30.6
51.0
Beech Forest
110.6
147.3
Bellbrae
na
52.4
Bells Beach
na
52.4
Beeac
27.4
45.5
Birregurra
26.6
48.8
Boonah
61.4
n.a.
Cape Otway
47.4
72.3
Colac
21.2
59.0
Clifton Springs
36.4
48.3
Cressy
23.0
50.2
Curlewis
40.3
48.0
Drysdale
na
48.3
Durdidwarrah
51.4
n.a.
Forrest (Town)
na
83.1
Forrest

(West Barwon)

49.4
75.9
Gellibrand
69.6
77.5
Inverleigh
na
48.0
Johanna Heights
na
130.0
Lal Lal
na
n.a.
Lavers Hill
na
148.0
Laverton
34.2
49.0
Lethbridge
na
57.0
Little River (You Yangs)
47.0
43.2
Melba Gully
na
n.a.
Melbourne (City)
36.8
58.0
Meredith (Darra)
41.6
58.2
Moriac
36.2
45.0
Morrisons
na
n.a.
Mt Cowley
100.4
n.a.
Mt Gellibrand
21.2
n.a.
Mt Mercer
38.6
n.a.
Mt Sabine
233.2
n.a.
Point Lonsdale
26.3
52.0
Pollocksford
24.2
n.a.
Portarlington
na
53.6
Queenscliff
na
48.3
Shelford
na
44.0
Sheoaks
42.6
n.a.
Skipton
42.4
n.a.
St Leonards
54.5
50.0
Sutherlands Creek
na
42.0
Teesdale
na
46.0
Torquay
na
45.0
Werribee
na
46.0
Winchelsea
22.0
40.0
Wyelangta
99.0
163.8

GEELONG SUBURBS
Location
Total for
Month
(mm)
Monthly
Average
(mm)
Avalon
49.4
46.7
Bell Park
33.0
45.1
Belmont
37.0
43.5
Breakwater
28.4
45.4
Connewarre
32.7
41.0
Corio
39.2
39.0
East Geelong
34.5
39.0
Grovedale
43.0
43.5
Grovedale South
35.2
43.5
Hamlyn Heights
33.8
43.0
Highton
na
43.4
Lara
na
39.1
Lara (Serendip)
57.0
39.1
Leopold
28.0
50.2
Leopold East
36.9
50.2
Manifold Heights
 37.4
43.0
Moolap
 na
45.0
Waurn Ponds
31.6
44.0
Whittington
na
43.0
Geelong Urban Area Average
34.0
42.0