TEMPERATURE
May 2017 had 3 distinct phases: a colder than normal first fortnight, a warmer than normal 3rd week and a colder final week.  All these variations averaged out into a fractionally cooler month overall.  Minimums averaged 8.0 C (mean 8.3 C) and maximums averaged 17.0 C (mean 17.1 C), giving a figure 0.2 C below the May 30-year mean temperature.
The warmest day  was the 21st (20.8 degrees C) and the coldest day was the 16th (13.0 C).  Overnight minimum temperatures varied from 3.5 C on the 12th to 13.7 C on the 23rd.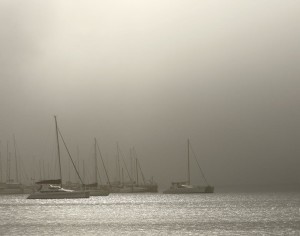 Photo above: Foggy day on Corio Bay 17-5-2017, courtesy Harry De Wit.
RAINFALL
Very poor rainfall in May (27.8 mm in urban Geelong) was experienced over most of the region.  Only between 40% and 60% of the normal rain was recorded from the Otways to the Bellarine Peninsula.  Rain fell on 16 days and the heaviest recorded at Breakwater was 12.6 mm on the 28th.
OTHER FEATURES
Several massive forecast failures occurred during the month.  On the 19th very heavy rainfalls were predicted for Geelong but only 0.2 mm eventuated, and several days had maximum temperatures well below those predicted.  Basically the causes can be put down to the very difficult task of forecasting in a very changeable autumn.
Otherwise the month was settled.  There were no strong wind gusts, no storms, no thunder days but several foggy mornings.
AUTUMN ROUNDUP
Autumn overall was very wet thanks to above average March and April; almost all places recorded well over double the seasonal rainfall average.  However, owing to a warm March and April, autumn temperatures were slightly above average.
RAINFALL DATA
GEELONG REGION
Location
Total for Month (mm)
Monthly Average (mm)
Aireys Inlet
35.8
(55.6)
Anakie
27.9
(52.0)
Apollo Bay
81.6
(99.2)
Ballan
33.8
(47.5)
Ballarat
44.0
(68.1)
Bannockburn
25.6
(46.0)
Barwon Heads
na
(64.0)
Bellbrae
na
(65.1)
Bells Beach
na
(65.1)
Beeac
na
(57.2)
Beech Forest
99.6
(181.3)
Birregurra
52.4
(64.5)
Cape Otway
83.8
(91.7)
Colac
na
(71.9)
Clifton Springs
34.0
(n.a.)
Curlewis
na
(n.a.)
Drysdale
na
(48.0)
Durdidwarrah
na
(59.0)
Forrest (West Barwon Dam)
80.0
(92.0)
Inverleigh
30.4
(56.6)
Johanna Heights
na
(170.0)
Lal Lal
34.2
(64.2)
Meredith (Darra)
31.4
(60.2)
Moriac
39.2
(55.0)
Morrisons
na
(na)
Mt Cowley
82.8
(na)
Mt Mercer
23.0
(na)
Mt Sabine
50.6
(na)
Pollocksford
na
(na)
Point Lonsdale
29.1
(57.0)
Portarlington
na
(58.4)
Queenscliff
20.6
(58.1)
Scotsburn
 na
(na)
Sheoaks
32.4
(na)
Shelford
na
(37.0)
Skipton
na
(44.0)
Sutherlands Creek
28.4
(41.0)
St Leonards
na
(58.0)
Teesdale
na
(45.2)
Torquay
na
(58.0)
Winchelsea
na
(48.0)
You Yangs
na
(44.0)

GEELONG SUBURBS
Location
Total for Month (mm)
Monthly Average (mm)
Avalon
29.2
(40.5)
Bell Post Hill
26.0
(40.7)
Belmont
24.0
(43.1)
Breakwater
27.8
(41.5)
Connewarre
na
(43.9)
Corio
33.8
(41.0)
East Geelong
na
(43.0)
Grovedale
30.6
(45.8)
Grovedale South
27.2
(49.8)
Hamlyn Heights
25.4
(43.5)
Herne Hill
29.0
(40.5)
Highton
27.6
(43.8)
Lara
na
(39.4)
Leopold
31.0
(44.4)
Leopold East
34.8
(44.4)
Manifold Heights
29.5
(44.4)
Moolap
23.2
(46.0)
Queens Park
na
(41.0)
Waurn Ponds
26.4
(45.0)
Whittington
na
(41.8)
Average across Urban Area
30.0
(42.1)